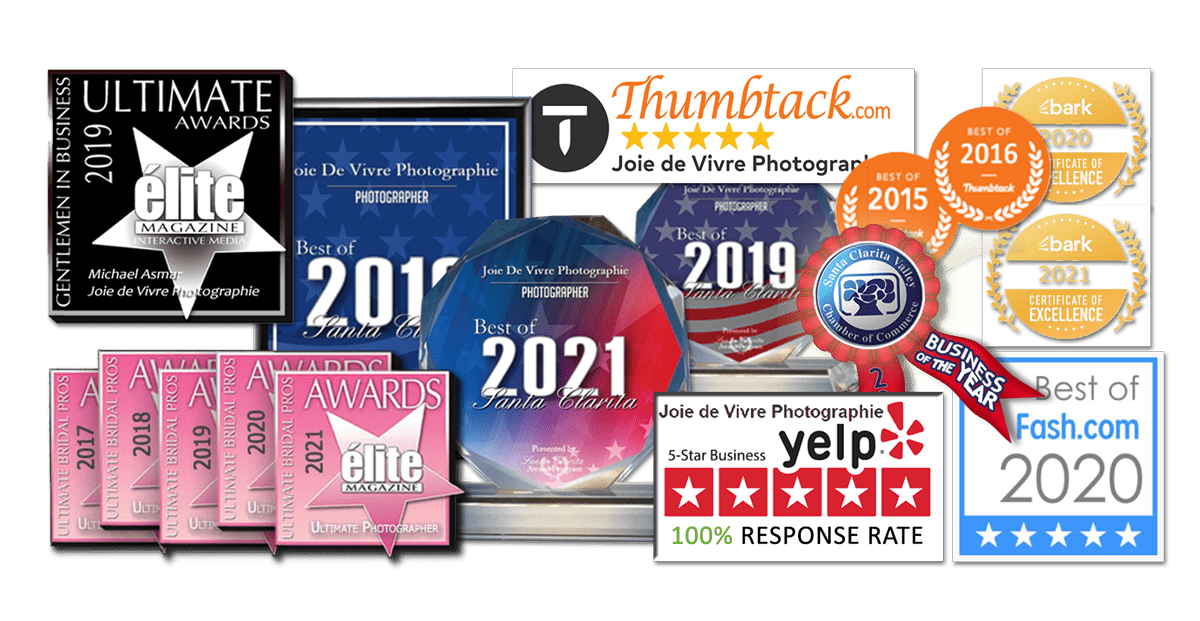 A Favorite Photographer in Santa Clarita
Joie de Vivre has been recognized as the favorite photography provider in Santa Clarita for many years and it's all because of you.

What They're Saying
Here are some of our favorite and most recent testimonials. Thank you!
Mike was great during our session.  Although it was a windy day, he was able to work around that to ensure it did not impact the pictures.   Within just a couple of days, he narrowed down the number of pictures he took to the ones that he wanted us to look at.   He came over and reviewed those with us on a large monitor and even showed us some of the basic cropping and edits he could make so that we could get a better idea of the final product.  Once we selected the phots we wanted and the edits, we had our final pictures very quickly.  The entire process was professional and quick and the pictures came out great.  I really enjoyed working with Mike and highly recommend him – Jon G.
Thank you Joie de Vivre for capturing my mother's 75th birthday celebration. Not only was Mike a pleasure to work with, but he was extremely accommodating. The pictures are beautiful! We ordered photos, which came on a thick board, along with a photo album. Both are excellent quality! Thank you again Joie de Vivre Photographie! Looking forward to working with you again. – Marie A.

My review is very long overdue!

My wedding took place on an October evening in San Francisco. My ceremony was inside a beautiful Victorian Home. I already knew that getting photos taken after the ceremony might be tricky outside of the venue. Even though it was dark outside, the pictures Michael took came out spectacular. He captured every element of the venue, pre-shots, ceremony, and reception.

I never really realized the importance of capturing different elements of the wedding (shoes, roses, getting ready). Once my pictures came back to me, each photograph of every element reminded me of the different aspects of my wedding. Some of my favorite photographs.

I had a slight embarrassing  "malfunction" with my dress in some photos. At my request, the photographer was able to go through and edit and reproduce all of the affected photos in a timely manner.

Michael really saved the memories of our special day, went above and beyond, and gave us an outstanding product and great service! Thanks again! – Jess L.
I worked  with Michael recently as I needed an updated executive headshot. He was the utmost professional and was very patient and fantastic to work with. My photos were great! I would highly recommend Michael and his team for all of your photography needs. – Peggy C.
We just did a beautiful family photo shoot- Michael is so wonderful! He is so professional- there were a lot of us to wrangle and he made us all feel so great and comfortable – the pictures were coming out som good we all decided  impromptu to take head shots as well- which came out great! We will continue  to use Michael for our photography- his work is beautiful and his prices were really reasonable- thanks  Michael! – Patricia C.
Getting 4 busy adults together at the same time is always a challenge but Michael was very accommodating to our schedules. We wanted photos taken in an outdoor setting and Michael found us a location the yielded numerous possibilities, and got us all together when the lighting was just right. He was very creative in getting us into numerous poses, and fun to work with. The session lasted at least an hour and resulted in scores of beautiful photos from which to choose. I would recommend Joie de Vivre without hesitation. – Rick L.
Michael, Photographer of Joie de Vivre performed a fantastic , artistic
And family appreciative service for us this Christmas holiday. We wanted something special and we got it and more. My eight grandchildren and three daughters came together from over the country and the world. Nathan from Shanghai and Natalie from London to assemble for a family portrait. Others from colleges back east . This was an important event. The Hugh portrait he made is phenomenal, family groupings amazing! and individual head shots professional and authentic to the letter. Cost was also extremely reasonable for all the set up equipment, displayed screens and lights it was like a Hollywood set . I did my homework and selected Michael  who is a lovely man, has a beautiful family and understands people and families which is why he can capture the essence of a person in a photograph.  He is a master of his craft and we feel blessed to have found him. We will treasure his productions as will the generations of our family that follow. Thank you so much Michael. – Shirley B
I loved the expertise and proficiency of the experience. Mike really knows what he is doing and his integrity is incredible. – Hany F.
Michael Asmar auctioned one of his prime packages and we have tried it. The meet up was hassle free and had exceptional shots not seen anywhere else. A week later we saw the pictures and through his guidance we were able to get the best of the best. I suggest to get the CD put if you planning to place on frames, get the prints. I've got both and both came out flawless. The price is fair and his professionalism is excellent. I highly recommend his services to your next event. – Jinky T.
I chose Joi de Vivre for my daughter's senior photos. The photographs far exceeded my expectations.  Michael was extremely professional and affordable.  He knew what locations would make for the perfect pictures.  We also received our order very quickly.   I will be calling Michael in the future for all my photography needs. – Mary Beth S.
Michael has been creating amazing photos for many years here in Santa Clarita. His amazing worked can be seen in the hundreds of school,  business head shots, wedding, family and special event photos. He has created great memories for my family with the beautiful pictures he has taken over the years. Give Michael a call, you will be thrilled. – Kathy Morris.
I've known Michael Asmar's work for a long time, having met him in a photo shoot for the Magazine of Santa Clarita, and later on one for SCV Elite magazine. He has taken portraits of me, my husband and I, and recently of our daughter. This time we hired him for a family portrait on canvas. We worked out the pricing via email (my preferred mode of communication) set up the shoot and it went off painlessly. (We even had fun taking photos of him too!) He came back to our home to show us the photos, some minor touch up work he had done as an example, share some of his techniques (brush strokes anyone?) and spent quite a bit of time helping us select just the right photos. Soon he hand delivered our new portrait masterpiece – among a few others we couldn't resist – and they are wonderful! I highly recommend Joie de Vivre Photographie to everyone! – Eve B.
Joie de Vivre Photographie has supported many of our community events for Soroptimist International of Greater Santa Clarita Valley.  Michael and his team are professional, available and always provide us with fantastic pictures of our events.  I've also had a chance to work with him on other venues and would recommend Joie de Vivre for any photography needs large or small. – Pam I.
We found Joie de vivre Photographie through thumbtack.com. Michael and his staff we're very professional. At our first meeting we mentioned our budget for our wedding photos and we wanted a lot of special moments to be captured professionally. Although, our budget was tight, Michael treated us very well and understood our needs/wants of our wedding day. Joie de vivre photographie did an amazing job our photos! They are a great team to work with and we have all our wedding photos on two disc for a lifetime of memories from our special day. –  Ashlea B.
I've known Michael's work from SCV Chamber events and local magazines. I needed a set of head shots for the orchestra's marketing materials. The whole process was very smooth; from set up, to photo session, to image selection to delivery of the finished digital images. The prices are very competitive. I would not hesitate to recommend Michael for any similar type of work. – Andre A.
We hired Joie de Vivre Photographie to shoot our wedding this past December. Michael and his team were very professional and spent a lot of time before, during and after the ceremony create such beautiful memories. We had a pretty tight budget for a photographer and Michael really worked with us to pick a package that would give us everything we needed. Also, the pictures were ready so fast! They were ready before we even got back from our honeymoon and Michael brought them to our home which I thought was a nice touch. We will definitely be using them in the future for family photos, maternity shoots and so forth. – Brandi A.
Terrific work with my headshots.  Very professional throughout the process, from initial consultation, to actual photo session, and through to viewing a large number of photos to choose from.  And timely retouching and delivery.  Highly recommended. – Andrew C.
I'm new to the SCV, and it was time to update my personal website. This meant an updated professional photograph of myself; I'm a college professor.  After reading the reviews of Joie de Vivre Photographie, I called Mike and set up an appointment at my home. Mike arrived early which gave us some time to chat and get comfortable; soon after my partner arrived and we all worked together to make it a good session. Mike is very personable and down to earth; he takes his work very seriously. The three of us worked together to ease my anxiety and make the photo-shoot even more than pleasant. I'm very happy with the three photographs I selected, and now my website is updated, with a new photograph.  I highly recommend Mike as your photographer; my review adds one more to the many positive reviews already here. – Ricardo S.
Michael and staff did a superb job on our wedding photography.  They were very professional, organized, and took beautiful shots.  The wedding album they did for us is gorgeous!  Michael was very attentive and spent a lot of time working with us and explaining everything in detail.  Very easy to work with and highly recommended. – Joaquin A.
We had our wedding a couple of weeks ago and Joie de Vivre Photographie did an amazing job, they captured every minute of the day and we had plenty of pictures to choose from. Not only did they get on film the beauty of the location, the happiness everybody was sharing and all the small details of the day, we had our proofs a couple of days after our wedding!!! I highly recommend Joie de Vivre Photographie for any special occasion. – Carol A.
We love working with Michael and his staff at Joie de Vivre. They shot my surprise birthday party as well as some product shots for Vino 100. He did an amazing job on both. Michael is the consummate professional and very good at his craft. We couldn't be more happy with the results. He took very good care of us throughout the whole process. There should be no one else you should entrust taking memorable photos than Joie de Vivre! – Lil Lepore/Vino 100.
Joie de Vivre took photographs of my son and I when he was just 6 weeks old. Michael was my photographer and he beautifully captured the bond I shared my new son (despite the fact that the baby was crying during a good portion of the session). Michael was patient, professional, warm and caring throughout our session and afterward when we went through our proofs. Our photographs turned out amazing!– Danielle C.
Talented, warm and professional. Completely happy with the service and the results. – Margaret Lundgren, Vice President Management.
Joie de Vivre photographed our wedding at the beach last summer. They captured all of our special moments and knew what we were looking for in all of our requests. They are fun, timely and professional not only at the event but also at getting our finished products to us. – Christina K.
Michael's experience and professionalism shine through his photography. We have used him and his team for our team photos as well as our Chairman's portraits that are proudly displayed in our conference room. – Terri K. Crain, President/CEO, SCV Chamber of Commerce.
Joie de Vivre Photographie has photographed many events in our community that I have worked on, as well as provided the photography for my business head shot. I have always been very pleased with the quality of their work! They are very professional and their photographers are very accommodating and a pleasure to work with. They were fast in delivering my headshots back to me, as well as delivering professional photos on the spot to guests at our events. – Laura Kirchhoff, Corporate Events & Marketing.
As the General Manager for Westfield Valencia Town Center, I highly recommend Joie de Vivre Photographie for any large scale events. I have retained their services for several events including our Patios Grand Opening, Rocking Summer Nights, Radio Disney Snow Day, and our annual Fashion Show. They have my vote and I look forward to continuing our relationship. – Raj Chandani, Westfield Valencia Town Center.
I want to thank you for preserving our wedding so beautifully. The photos eloquently captured our love. Coordinating a wedding was a daunting task. Sharon and I were overwhelmed with all the details. Your professional expertise and prompt personal attention made planning our wedding a great deal easier. As part of our wedding team, you not only provided relief from the stress inherent in a wedding event, our photo album that you produced captured our special moment in time that we will share with our children. Yes, Sharon is expecting! Thanks for all your help. – Bruce C.
Joie de Vivre was very professional in handling our company's needs. Their ability to meet us at our location, set up all the necessary equipment and take amazing photos exceeded our expectations. We couldn't be happier with the final results! We will use Joie de Vivre for all of our future photography needs. – Dwight Wolfe, California Business Telephone Systems.
Michael and the staff at Joie de Vivre Photographie are always a pleasure to work with. As publishers of The Magazine of Santa Clarita and élite Magazine, we take pride in our cover photography as well as photos inside both publications, and Joie de Vivre Photographie not only meets our expectations but also exceeds them. They are professional, efficient and have met all our photography deadlines with ease. From headshots to event photos, we are very pleased with their work at Joie de Vivre Photographie. – Moe & Linda Hafizi, Publishers, The Magazine of Santa Clarita & élite Magazine.
We couldn't be more pleased with our experiences with Joie de Vivre Photographie. Michael and his staff had a way of putting everyone at ease and captured some truly beautiful photos for us. They were unobtrusive during the event and yet seemed to be everywhere, getting great shots of everyone and everything. Their level of service was no less impressive when it came time to create the photo books and individual prints – with creative layout suggestions, fantastic turn-around times and stunning end results. And just as importantly, their pricing is very reasonable in comparison with other photographers we looked into. We recommend them highly, without reservation, and will use them again for any of our future photography needs! – Lori G.
Joie de Vivre did a wonderful job with our wedding photos and we are thrilled with the results! Mike is very professional and aims to please. Overall we couldn't be happier. He made the process stress-free and fun. Thank you, Mike! – Sharon C.
Michael was exceptionally flexible and sensitive to my needs. He made his services convenient to my schedule and worked hard to get me the results I need. I found Michael to be forthright, candid and honest. He produced deliverables within the time frame promised. The deliverables were excellent in every regard. It is difficult to find a photographer that will invest such time and resources with their client in order to render a unique creative result that the client hopes to achieve. In an ocean of so very many photographic professionals in Southern California, Joie de Vivre Photographie stands out as one of the very few that can deliver superior results with the utmost quality and timely delivery. Their pricing is fair, reasonable and competitive. I will not hesitate to use Michael again for my future photography requirements. – John P.
Michael is really a great photographer who chose a nice location to do some outside shots to use for a matchmaking website. I was surprised to find so many usable photos that I trouble choosing the five that I would use. Accessing the photos was smooth and I was able to upload without any problems. – Gary D.
Michael was great. I always wanted a family portrait and now I have a wonderful and large mantle piece to enjoy. The process was great, from the outside photo shoot with my kids, to viewing the proofs and even the final touch up which was exquisitely detailed. I highly recommend Joie de Vivre for anyone, top notch photography biz. And now I have my family portrait to look at for the rest of my life. Thank you Michael! – Randy B.
Fabulous job! I kept thinking I should just have my friend take my headshot. Why pay a professional? Because it's so much better, so much more professional… the lighting, the attention to detail, the touch ups. I'm so happy I had Michael take and prepare my picture. – M J.
I was really happy with Michael, his photo shoot, and his kindness! I would choose him and this company again! – Susan O.
We had Michael take family photos at a destination location. We were so happy with the whole process. The pictures are beautiful and Michael was awesome!! He was caring, polite and professional in every sense of the word. I will use him for any future projects. – Donna M.
Joie de Vivre Photographie has filled every expectation I had. Mike worked with us to capture on-going photos of my son during his senior year in high school. Schedules are tough, but Mike made every change available to him so that he could accommodate our schedule. We began taking pictures late last year, and finished up with graduation. The pictures are amazing! A photo book was amongst my requests, and the result is fantastic! It's hard to decide when there are a large number of pictures to choose from…not to mention they are all worthy of keeping. Mike sat with me several times to help me sort out exactly which ones I wanted to print. Nothing was missed! Terrific work! Very professional through the entire process. Very reliable. I couldn't be more pleased with how Mike captured his senior year. My expectations were beyond met. I have 2 more kids on the books already! I definitely recommend Joie de Vivre Photographie for your next event. Thanks Mike for everything! – Nicky H.
Thank you Joie de Vivre for capturing my mother's 75th birthday celebration. Not only was Mike a pleasure to work with, but he was extremely accommodating. The pictures are beautiful! We ordered photos, which came on a thick board, along with a photo album. Both are excellent quality! Thank you again Joie de Vivre Photographie! Looking forward to working with you again. – Maria A.